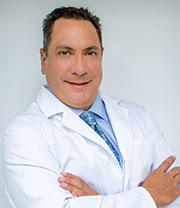 Bernard L. Hoffman, III, DDS
"My father was a dentist and I enjoyed the lifestyle that dentistry provided me as a child. I enjoy the fact that dentistry is such a challenge. I enjoy relieving people from pain and helping my patients improve their hygiene as well as their smiles.
"I like my patients to relax and let me do the worrying for them. I also feel that a good dose of humor helps patients relax. I hope to give them a high dental IQ, along with the confidence that they have healthy smiles and solid, long lasting dental work.
"My best quality as a dentist is my well-rounded knowledge of implant dentistry, as well as general dentistry, prosthodontics, endodontics, periodontics and orthodontics. The more I know about the dental sciences and specialties, the better I can care for my patients and the better are their results."
Board-Certified: American Academy of Implant Dentistry, International Congress of Oral Implantology
Fellowship: Implant Placement, NYUCD, AAID, ICOI
DDS: New York University College of Dentistry (NYUCD), New York, NY
Member: Mercer County Dental Society
Awards: Best General Dentist, NYUCD
In his spare time, Dr. Bernard enjoys skiing, snowboarding, ice skating, hunting, trap and skeet shooting, fishing, biking, boating, physical fitness, football and lacrosse.
No one does a better job at restoring the beauty and health of your teeth than Dr. Ana Hoffman and Dr. Bernard Hoffman. Experience truly complete and gentle smile care that you and your family will appreciate at Pennington Family Dentistry. Schedule your visit with us by calling 609.737.0006 or fill out our online Appointment Request form.