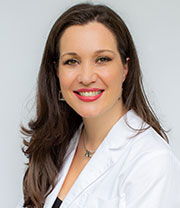 Ana Paula Hoffman, DDS, MSc, PhD
"I always liked the medical field, but I didn't want to be a physician. Dentistry was the right profession, where I could help patients, providing them with a service that would not only help patients get out of pain but also improve their health and self-esteem. Dentistry is a beautiful profession. Contemporary dentistry is so much more than just drilling and filling. We can build a person's confidence by changing and improving their smile. We can make teeth functional and aesthetically pleasant.
"I believe that a well-informed patient is a more confident patient. I always explain all the procedures I'm going to perform at each visit, so my patients can sit back, relax and enjoy themselves while I do the treatment. I'm a talkative person by nature, so I'm constantly talking and entertaining my patients while they are in the dental chair. I believe in giving patients my skills and compassion and personal individual treatment. I treat patients as if they are part of our family."
DDS: New York University College of Dentistry (NYUCD), New York, NY
Member: Mercer County Dental Society, American Dental Association
Awards: Best Dental Aesthetics, NYUCD
In her spare time, Dr. Ana enjoys family-oriented activities, including skiing, trap shooting and cooking.
No one does a better job at restoring the beauty and health of your teeth than Dr. Ana Hoffman and Dr. Bernard Hoffman. Experience truly complete and gentle smile care that you and your family will appreciate at Pennington Family Dentistry. Schedule your visit with us by calling 609.737.0006 or fill out our online Appointment Request form.